The circular economy is an economic model that extends the life cycle of products. Throughout this process, waste is eliminated through the reduction, reuse, repair, and recycling of materials to limit inefficiencies and close gaps within the system. It aims to effectively design out waste.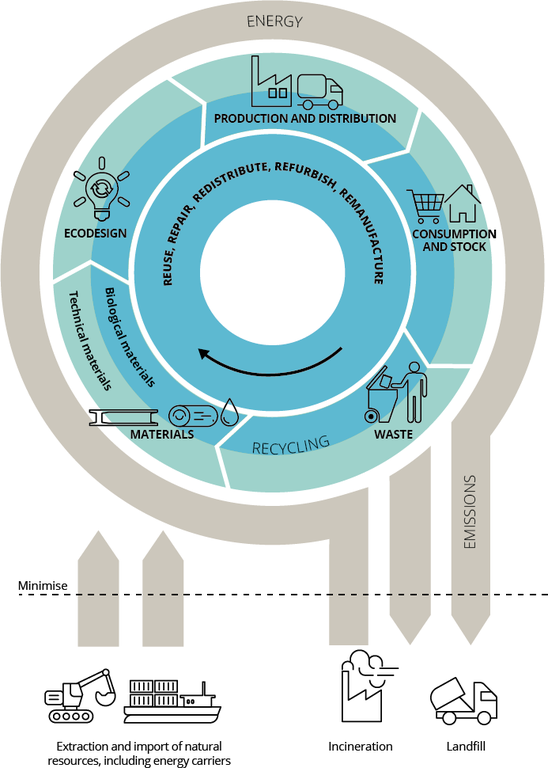 Image Source: The European Environment Agency, Circular Economy System Diagram
Circular practices help to reduce the amount of finite raw materials taken from the earth, ensuring a more prosperous environment for future generations. Reusing materials results in a parallel reduction in greenhouse gas (GHG) emissions and other environmental impacts, increased innovation, and the opportunity for significant cost reductions.
Global waste will increase from 2.01 billion tonnes of waste in 2016 to 3.4 billion tonnes per year over the next 30 years. The Metro Vancouver Integrate Solid Waste and Resource Management has set targets to reduce the quantity of waste generated per capita to 90 percent or less of 2010 volumes by 2020, based on a five-year average. Metro Vancouver has active campaigns to locally reduce food waste and rethink the textile purchasing industry.
The circular economy is urgently needed to help address the global climate emergency – it has been proven to help reduce CO2 emissions and drastically reduce waste. Through its redesign, reuse, recycling and retooling of materials, the circular economy will create additional jobs and revenue streams while improving the region's self-sufficiency and resilience. For every 10,000 tonnes of resources that are recycled rather than incinerated, an estimated additional 36 jobs are created.